Chiropractic ads on Facebook.
One problem many chiropractors face with Facebook ads is that they don't know the ins and outs of ads manager and audience building. Also, their copy sucks with no value proposition. Facebook can get you a great return with a small budget if done correctly. Here is my guide to making great chiropractor ads that convert and get more customers in your office.
Why is Facebook important
All businesses should utilize Facebook and their ad delivering system and here is why:
Provides social proof when people like, comment, or share a post.

Another avenue for people to see where your business is located and the services you offer.

A place where people can post reviews (social proof)

A place where customers can see if you are offering any special deals.

If you have a CRM system Facebook can find more customers that look like your current customer.

Facebook can help you find new customers
Organic posts are not cutting it now a days
Facebook is making an effort to hide businesses organic posts because it wants more family and friend interaction. When marketing and using social media platforms like Facebook you have to stay up to date on the changes in their logarithm. You can still get your post in front of your customer and his family, but now you have to pay for it and it has to be engaging.
New to Facebook for business? Here is how to get started.
Create a business page for your chiropractic business. You cannot advertise on Facebook without a business page.

Invite current customers to like your Facebook page. (optional but I highly recommend it).

Set up ads manager and business manager. business manager is optional, but it is a nice tool Facebook has and its free. I'll supply links on how to do this.

Install the Facebook pixel to your website

Create an audience if you have an existing customer base in your CRM.

You're ready to advertise
https://www.facebook.com/business/pages/set-up
https://www.facebook.com/business/help/1710077379203657
https://www.facebook.com/business/help/952192354843755
What is a Facebook Pixel?
A pixel is a tiny piece of code Facebook gives you to put in your website so Facebook can start collecting data from your website. This code collects things called pixel events. here is a list of all the pixel events.
view content

search

add to cart

add to wish list

initiate checkout

add payment info

make purchase

lead

complete registration
Once the Facebook code is installed on your website these events will start firing when they occur. Attached below is an example of what the pixel looks like at work. The pixel helps Facebook gather data on your website traffic. Once you start getting a good amount of website traffic and different pixel events start firing, you will be able to better optimize your ads.
Audience Building
Another thing a lot of people overlook in the Facebook ad process is building an audience. First thing you do is go into your ad manager and click on the audience's tab in your ads manager.
You have two options for building an audience. You have the build a custom audience option or build a lookalike audience option. Both of these options should be implemented because they are so valuable. however, you can't create a lookalike unless you have a custom audience first.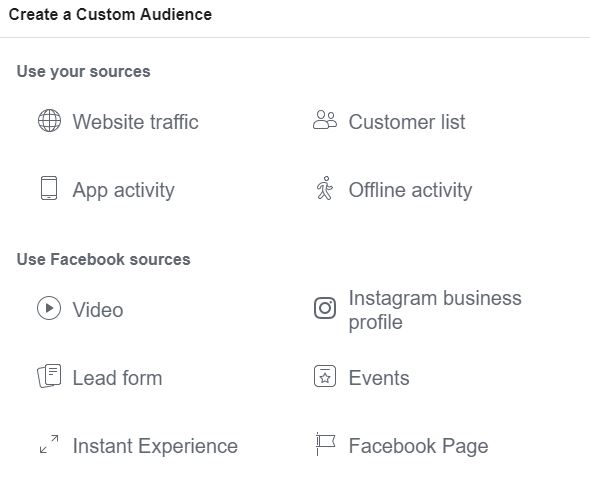 Help Facebook by giving them an audience
You have a few sources to pull an audience from internally through Facebook and externally through alternative sources like your website or customer list. When I build an audience for my clients, I always do website traffic for re-targeting and I always try to import a customer list especially if you have a list more than 1,000 people. If you are already active on Facebook or Instagram then you might want to target people already interacting with your page, video, lead form, or event. What I have found works best with chiropractor ads is to create an audience from their website and customer list. Most chiropractors have a CRM software they use to store customer data in.
Lookalike Audience for Chiropractors
After we did the above step you should use either website traffic or customer list to create a lookalike audience. What does a lookalike audience do? Facebook uses an audience you already have and extrapolates it to find other people who are similar in that audience. In other words, if you have an audience of your current customers, Facebook will then build a bigger audience for you based on your current customers. This means you will have the ability to display ads in front of people who are more likely to take action.
Ad Objective for chiropractors
I think this is the part that scares people a little and it should. Choosing the wrong ad objective can kill a campaign and just burn your budget. Now there is a couple ways to do this and it really depends on your goal and your current audience. These are my suggestions for ad objective.
Traffic - If you have no pixel events and want to build data or make an ad to get interactions with to then re-target people at a later point in your sales funnel. For instance, you might do a traffic video ad for views and then later create another ad meant for converting with a value proposition.
Messenger ads - can be great inexpensive way to book chiropractic appointments. It displays like a normal ad but says "send message" for the call to action instantly connecting you with a customer. You can use it to collect contact info or just schedule appointments right then and there.
Lead Gen - if you want to build an email list or collect phone numbers you can use lead gen as well.
Conversions - This is the category you want to use once you have an audience and are receiving 10k/mo pixel events.
Targeting
First you will want to add your audience if you have one.

Also add your lookalike audience if you have one.

For chiropractic ads i run geo-targeting so my ad will only appear to people who live close by and who would actually come in.

Depending on what you offer you might try detail specific ads for instance, if you do physical therapy maybe target people into fitness or sports that are prone to injury.

There are a lot of ways to narrow down your audience but realistically a lot of people need chiropractic services from all walks of live so I'd keep the targeting more broad.
Budget
More money in your budget does not mean more leads! Start with $5 and scale incrementally. If the ad starts performing maybe add a couple dollars every 3 - 5 days. It is really about experimenting and seeing what performs best. There is an equilibrium that you need to find.
Ad and Value Proposition
You can always display an ad but without urgency and value proposition you may not see many conversions. You have to give the audience a reason to want to click the ad. For instance, lets take a look at this Pinterest Ad.
I just chose this as because it was literally the first Facebook ad I saw and it isn't a horrible example. Breaking down this ad we see a couple things.
Value prop is get $20 when you spend $30 on ads.

Goal is to get you to create a business account.

Creates urgency by saying "Limited time only".

70 comments and 23 shares act as social proof.
I'll show you have this can work for chiropractor ads by literally just copying Pinterest. First, what is your value prop? Depending on the services your chiropractor business offers this may be different but you could do something like a free adjustment or a cheap adjustment in 5 minutes or something along those lines. If you are not sure what to offer you can go on Groupon and see what chiropractor deals are on there and just match or go even cheaper. I know what a lot of you are thinking. You're thinking how am I suppose to make money by giving away free adjustments. The answer is simple, you are giving away something for free for future value. Most people don't go to a chiropractor once in their lives. When calculating any sort of ROI you should take into account the lifetime value of a customer. If you use this ad structure you can easily get exponential return on investment assuming you have put together a good audience and have good copy. Now the value prop is important but unlike the Pinterest ad you will need more copy than just a value prop. You will also want to convey trust and introduce yourself personally which is why video ads work great for chiropractors.
Best Creative for Chiropractor Facebook Ads
This is up to you both an image and video work well but I recommend a video explaining why getting adjusted is important. Nothing crazy, just a short 30 second video with an I phone is fine. You can also get nice stock images that can work just as well if you aren't very charismatic.
Chiropractor ad ideas:
Video ad talking about why an adjustment is important

Image ad with copy like "First 100 people to redeem this coupon will get their first adjustment on us". Also, you should set it up so they have to give you their email to receive this voucher.

Ad for more page likes: Image ad with copy that says something like discounted adjustment when you like our page on Facebook.

Offer a discounted package for first 50 people to share your Facebook video.

Refer a friend ad where the friend gets a free adjustment and the current customer gets a credit for his next adjustment.
The options are endless and they all work pretty well if you have done your targeting correctly. if you liked the guide and found it helpful please be sure to like and share. If you have any questions or want help feel free to contact me. Hope this was helpful and you get more business! =)
Author: Grant Huntington - G.E.M.S